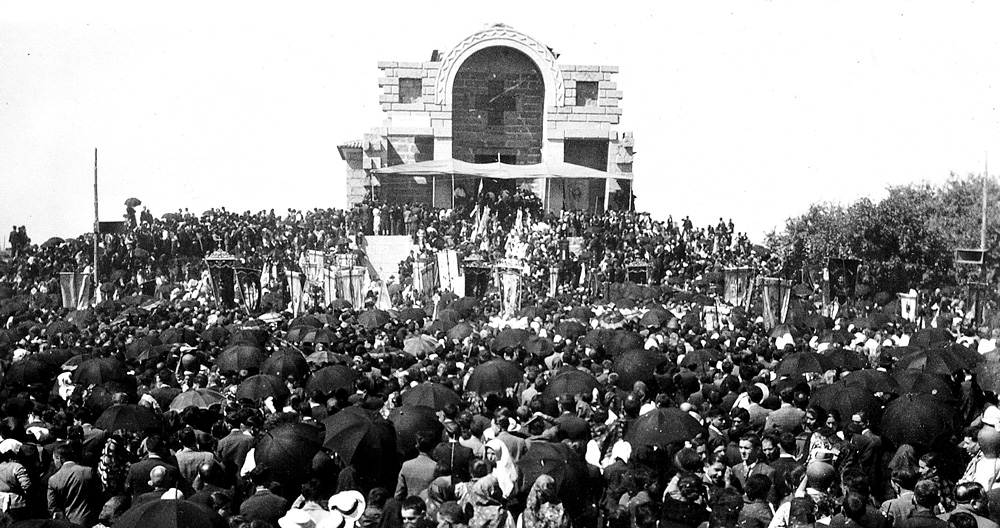 The first meeting was performed in 1867 for the Foundation of Brotherhood.
In the same year, on 12 August, in the Brotherhood secretary, in Guimarães, are redacted the statutes of the Brotherhood.
In 1869 are honorees the first promoters of the Penha, the designated "antonina trinity":
Priest António José Ferreira Caldas.
Priest António Ferreira Abreu
Priest António Afonso de Carvalho

On March 23 of 1872 are approved the statutes of the Brotherhood of Nossa Senhora do Carmo da Penha.
On August 29 of 1886 is founded the Improvements Commission of the Penha, year that laid the foundation stone for the construction of the Castle and its bell tower on the highest boulder of hermitage cave of Nossa Senhora do Carmo (Patron of the Brotherhood) - Nossa Senhora do Carmo

In 1923 is classified the Penha local as stanza of Tourism and created the Initiative Commission - Decree Law No. 8894 Law No. 1152 (1921).

Reconstruction and development
The construction of the sanctuary begins in 1930 however only in 1947 came to be inaugurated due to a dreadful fire in 1939. A true icon of the Penha is the work of an illustrious Master Architect José Marques da Silva.
In 1937 starts to operate the Tourism Board which replaces the Initiative Commission's.
In 1953 is attributed the classification of archaeological local and a Public Interest Property (Decree 39175 of 04/17/1953)
In 1989 driven by the Brotherhood's of the Penha and under the guidance of the City Council of Guimarães, is founded the Turipenha who came to build the Penha cable car, projected by the Architect Noé Dinis. It is inaugurated for his Excellency Reverend Archbishop of Braga, D. Eurico Dias Nogueira and by the President of City Council, Dr. António Magalhães, on June 24 of 1995.
All these associative movements reflect the work done by the people who followed and that estimated the local.
What we witnessed today at Penha is the result of gathered efforts along by the past three centuries by those who yearn offer to the visitor of green lung of Guimarães a pleasant place.